Me encantan los souvenirs!
Aunque siempre intente traer regalos originales, hechos a mano por la gente local, las típicas tiendas de souvenirs me pierden.
Así que en
Islandia
, además de lanas,
Skyr
y alguna que otra cosita de diseño, compre este trapo de cocina!
Nada más llegar a casa, lo convertí en una divertida bolsa de tela!
Aquí tenéis el paso a paso!
I usually bring some original handmade gifts, but I never come back home without commoun souvenirs.
For giving it another use, I decided to turn into a useful tote bag!
Here is this little DIY tutorial!
Material:
Sólo necesitáis un trapo, hilos y cinta, tela o cuerda para las asas.
You need:

tea towel, thread, ribbon, fabric o cord for the handles
1.
Yo deshice el borde para que la bolsa quedara más grande.
1.

Unpick the edge in order to have a bigger tote bag.
2.
Dobla el trapo con la ilustración hacia dentro, sobrehila los bordes and cose el trapo por los laterales (excepto la parte superior). Luego, añade las asas y cose el dobladillo de la parte de arriba.
2.

Fold the tea towel (with the ilustration inside), whipstitch the borders and sew the tea towel. Then, put the handles in the top and sew the cuff.
3.
Como detalle, añadí una etiqueta con el mes en el realizamos el viaje a Islandia y...
...voilà!
Espero que os haya sido útil este tutorial!
3.

Finally, I sew a label to remember when I travelled to Iceland et... voilà
Here you are the tote bag!
Hope you like it!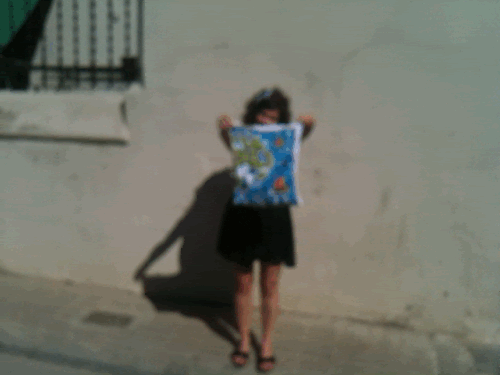 Os dejo con algunas ideas de cómo convertir los trapos souvenir de otros países en cosas originales! Empezaré a coleccionarlos de mis viajes, a ver en qué otros objetos puedo convertirlos!
Here are other original stuff made from souvenir tea towels from other countries! I'll start collecting them in orthen to turn it in other goodies!
Vintage souvenir tea towel from
Made by Mosey blog
(vía
poppytalk
)
Book cover from
Lune Vintage
Tea Towel pillow cushion from
The Craft Revival
(vía
Craft Gossip
)
Tweet